Update 15th March 2023
This Article is no longer valid.
If you install Mailster you have to validate your purchase code. This ensures you have a valid license and are eligible to use Mailster on your site. Here are the error messages which can show up during the verification process.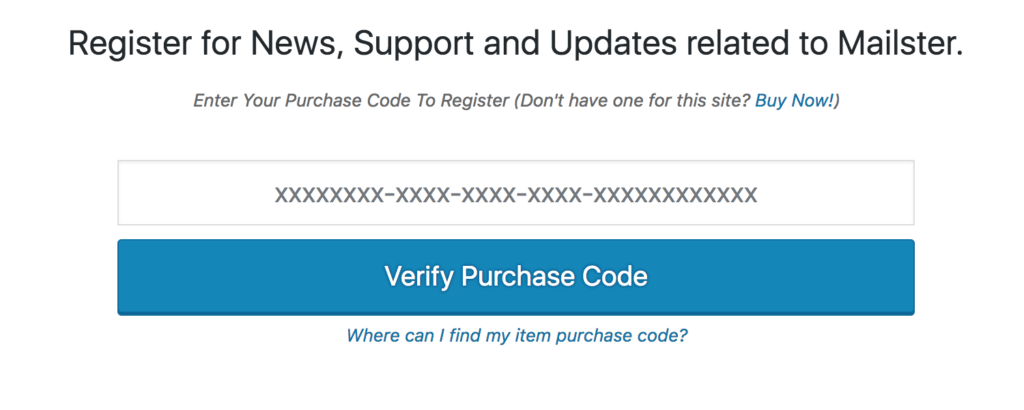 Please enter your Purchase Code!
You need a valid purchase code to activate your license. It's also called a license code or short license. Where's my purchase code?
Your purchase code is invalid.
To get automatic updates for Mailster you need to provide a valid purchase code. Maybe you have entered the purchase code from a different product or you haven't got one yet. Buy a new one here.
Your purchase code is already in use.
Your license can only be used on one site only. (License Information). Please get a new license here if you like to use Mailster on an additional domain.
You may have signed up with a different email address already so you cannot sign up for the same license code with a different email address. Please log in with the assigned email address or reset the password.
You have to accept the terms of service.
In order to register you need to accept our Terms of Service and the Privacy Policy.
Please enter your email address.
An email address is required to create an account and assign the license.
This purchase code is already assigned to another user!
Each license can be assigned to one user. Please make sure you use the same email address and username you used to sign up. You can manage your current licenses here.
Authentication servers are currently down.
Either the servers we used for authentication or Envatos servers, which are used to verify your purchase are accessible. This is usually a temporary issue so please try again later. If you constantly have problems please open a new ticket.