Images say more than a thousand words. You may know this when adding a Feature Image to your posts but now you can do this for your newsletter campaigns too.

Post Thumbnails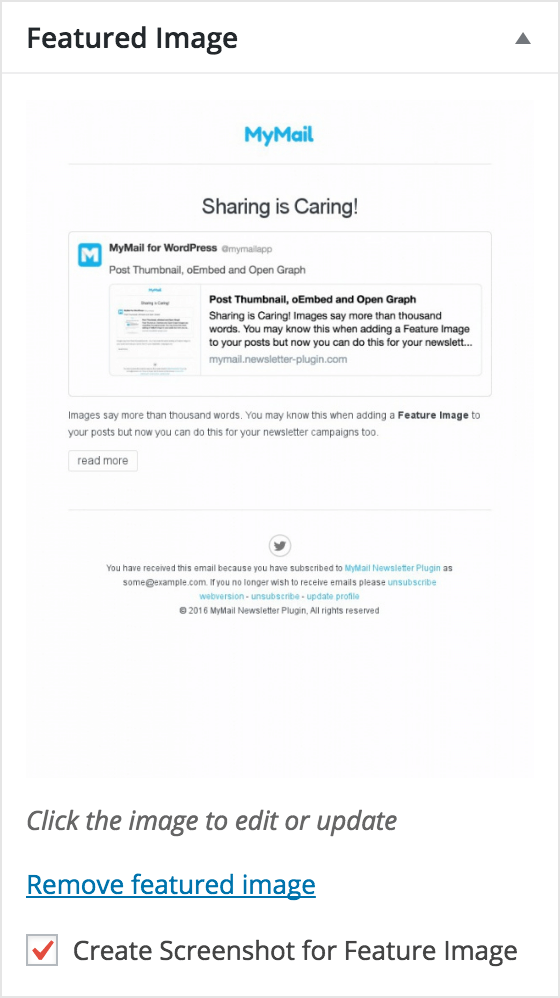 You can now add a featured image to your newsletter campaigns directly from the editor. This works like on regular posts by selecting one image from your media library.
If you don't have a proper image tick the "Create Screenshot for Feature Image"  checkbox and Mailster will generate a screenshot of your campaign as soon you save it.
Post Thumbnails is a WordPress native feature so you can do all things you can do with images from other post types.
oEmbed
WordPress 4.4 has become an oEmbed provider. oEmbed let you embed content from different sites like Twitter, Flickr, or Youtube. Now you can embed campaigns on another site which can discover oEmbed content (like another WordPress site).
This only works if your Mailster installation is enabled on a WordPress site with version 4.4 or above!
Open Graph
The Open Graph protocol enables any web page to become a rich object in a social graph. For instance, this is used on Facebook to allow any web page to have the same functionality as any other object on Facebook.
Mailster Newsletter Campaigns now look better if you share them via Facebook, Twitter, or other social sites.